3M SGLP2-BL RO System (McDonalds)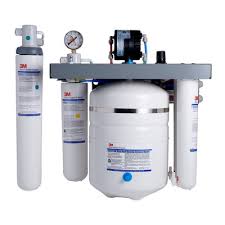 Title:
3M SGLP2-BL RO System (McDonalds)
Twin high production reverse osmosis membrane cartridges efficiently reduce dissolved mineral salts and contaminants that can cause corrosion and scale build-up.
Blending Valve supplies Recipe Quality Water for coffee and espresso applications. Steamer is supplied with non-adjusted reverse osmosis water
Cyst rated post filter cartridge provides great tasting water
Sanitary Quick Change (SQC) cartridge designs are simple to maintain and reduce the possibility of contamination during change-outs. No spills, no mess.
Compact rugged powder coated steel bracket design allows for installation in tight areas and is rust and corrosion resistant
Non-electric design reduces installation costs.
Auto-bypass valve ensures water availability at peak operating times.
FDA CFR-21 and/or NSF compliant materials are suitable for potable water applications.