Everpure BW4400 Replacement Water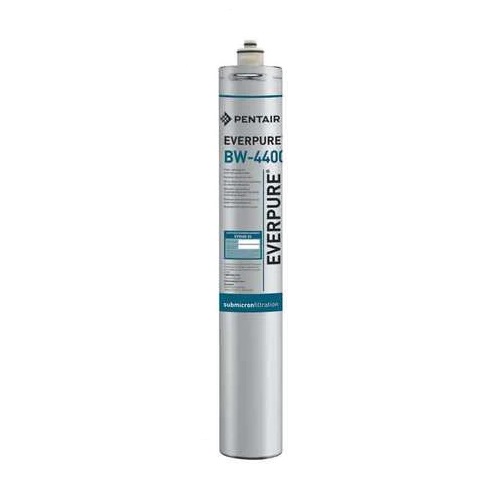 Title:
Everpure BW4400 Replacement Water
Supply clean, safe, great-tasting water to various water-using equipment with this Everpure EV966824 BW 4400 25" replacement filter cartridge! Compatible with MRS-100BL, MRS-225BL, and MRS-350BL filtration systems, this cartridge easily replaces a used one to ensure your fountain drinks, tea, coffee, or ice use high-quality water. It reduces chlorine taste and odor, dirt, and cysts in your water while also reducing limescale formation in your equipment.
Applications: for use with food service applications only

The Everpure BW 4400 Filter cartridge fits the Hoshizaki head and has the same specifications as the Hoshizaki HF Cartridge (taste/odor, cysts, and scale reduction) and can be used as an upgrade to the Hoshizaki HC Cartridge (taste/odor, scale reduction).

Compatible with MRS-100BL, MRS-225BL, and MRS-350BL filtration systems

Reduces chlorine taste and odor, dirt, cysts, and limescale

Post-filter with .5 micron rating minimizes particulate in filtered water

10 - 125 psi operating pressure; 35 - 100 degree Fahrenheit operating temperature

12,000-gallon capacity

Carbon block filter

Shipping Weight: 3 lb.

Length: 25 Inches

Diameter: 3 Inches

Capacity: 12,000 Gallons

Made in America

Filter Type: Chlorine, Cysts, Scaling, Taste

Maximum Pressure: 125 PSI

Maximum Temperature: 100 Degrees F

Micron Rating: 0.5 Microns

Service Flow Rate: 0.5 GPM

NSF® Certified under NSF/ANSI Standard 42