Installation & Repair of Water Systems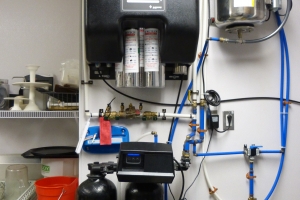 We install, maintain, and repair water filtration, reverse osmosis, sterilization, water softener, and iron removal systems.
We take pride in our education and understanding of water filtration, and its various and ever-changing technologies.
Our knowledge and ability allows us to maintain a professional level of integrity with our workmanship and quality installations.
Continual education makes it possible for us to remain at the leading edge of the industry, with a thorough understanding of the newest concepts and approaches to water filtration.
Our thorough understanding of the parameters of the food service industry and franchise specific requirements, place us in a position to provide you with the knowledge and products to properly maintain the water quality standard required.
Partnerships with the industry's leading suppliers grants us access to promotions, filters, and systems, allowing us to pass along the most up to date systems, filters, and pricing.
Our well-educated technicians provide professional, and thorough, on-site repairs and installations of water filtration equipment.
Our seasoned technicians are well-versed in the diagnosis and timely repair of water filtration equipment, minimizing equipment downtime and sales loss.
In-depth experience with the equipment and requirements of McDonalds, Tim Hortons, Starbucks, Second Cup, A&W, Ciniplex, Subway, Burger King, etc.